Rubber Roller Repairing, we undertake Repairing Servicing Jobs for all types of Bow Rolls & Rubber Rolls like Mount Hope, E + L, etc. for Length Cutting, Sleeve Changing, Spools & Bearing Change, Complete Overhauling, Rubber Coating Rubber Rollers, etc. Rubber Roller manufacturer with high quality and accurate repairing service.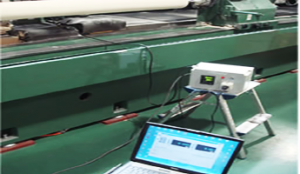 ---
We do re-coating of all types of Rubber Rolls with any shore hardness / our Factory is equipped to do re-coating of any old Roller and make it brand new.
Repairing Servicing of Rubber Rollers
Durability
Corrosion resistance
 Fine finish
 Precise dimension
Competitive price
Standard Features
Rubber Roller Repairing
Size: O.D.: 600 mm
Length: 4000 mm
      Hardness from 30o share A to 85o share A
      Length 50mm to 5500mm
      Diameter 50mm to 800mm
Application:
Roller used in Different Machines for Plastic Industry: Printing Machine, Flexible Printing Machine, Flexo Machine, Lamination Machine, Graver Machine, Scaling Machine, Pipe Plant, Winding Unwinding Machine, Offset Printing, Box Strapping Machine
Roller used in Different Machines for Textile Industry: Stenter Machine, Jigger Machine, Rotary Machine, Dyeing Machine, Calender Machine, Mangle Machine, Loop Steamer
Used in Different Industries: Industries like Paper, Pharmaceuticals, Leather, Textile, Plywood, Sheet Line, Material Handling and many more.
Our equipment is used for the following Applications:
Rewinding – Converting, Textile, Paper, Tire,
Unwinding – Converting, Textile, Paper, Tire,
Marking, Coding and Printing Applications,
Slitting – Any type of Laminate,
Packaging,
Wrapping,
Printing – Converting and Textile,
Tracking,
Controlling Tension & Edge of Laminate / Fabric.